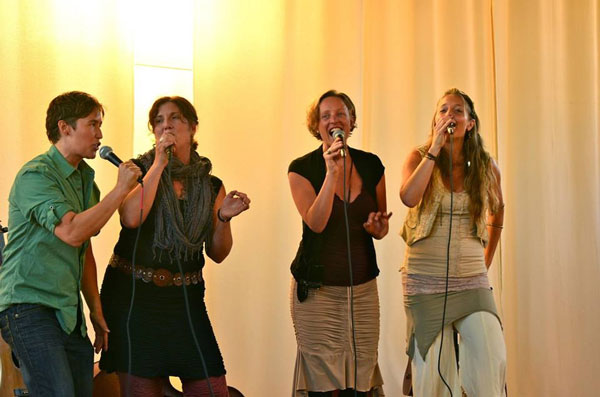 SIRENZ is a creative fusion of four powerful voices. Heather Houston, Samantha Keller, Molly Hartwell, and Sage Mendez will ignite your spirit with their dynamic harmonies, funky beats and soul stirring lyrics.
These talented young women, who have all been singing, making music and performing their whole lives, compose their own originals and arrange traditional songs from around the globe.
Their sound is influenced by Sweet Honey in the Rock, Zap Mama, and CopperWimmin, yet they bring a unique flair to 3 part harmony. Layering in percussion and beat boxing to their organic melodies and rhythms, they create music that is eclectic and fresh!
Their vision as artists is to bring people together; inspiring a movement in heart and consciousness. Their songs speak to the human condition, issues of our time, and evoke dreaming into the future as an act of creation.
The women of SIRENZ are each pursuing their solo projects, but still love to sing together.  So please stay tuned for surprise concerts and appearances!
Click here to listen to clips of songs and purchase their album.
Check out some video footage!