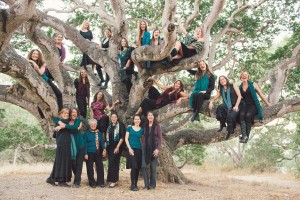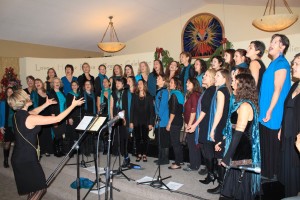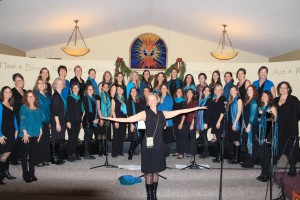 Yala Lati is a women's global music choir directed by Heather Houston.  They sing beautiful, uplifting songs and transcendent harmonies from diverse traditions, including Native American, Eastern European, South African, as well as from more contemporary songwriters.  Their music reflects and invokes the power of love, unity among all people, and reverence for all life.
Yala Lati offers two key annual performances: a spring concert (usually the Saturday of Mother's Day weekend) and a winter solstice concert (usually the Saturday before the Solstice).  They also perform at local spiritual centers, community, and benefit events.   See Concerts and Events for upcoming dates.
As part of their path of service, the women of Yala Lati love to sing to women who are incarcerated at the local jail.  And they were especially honored sing before the 13 Indigenous Grandmothers at their sacred council meeting in Arizona.
Yala Lati is much more than a musical ensemble.  They are also one expression of Heather Houston's vision of women collaborating through song and witnessing each other in sacred circle.  They are a powerful sisterhood, and the depth of love and connection between them shines through in their performances.
The Women of Yala Lati: Alison Scott, Anne Freiwald, Dabney Alix, Elizabeth Crow, Emily Mastellone-Snyder, Erica DeGarmo, Erin Ramsden, Jessica Rimmer, Joanna Bremser, Joyanna Heyno, Jude Jakob, Kai Siedenburg, Kate Robbins, Krista Claire Holt, Laura Bathrick, Laura Keen Server, Leah Jakob, Letitia Velasquez, Lydia Neilsen, Mari Cope, Megan Hawk, Megan Jacobsmeyer, Shoshanah McKnight, Tamara Myers, Valerie Byrne